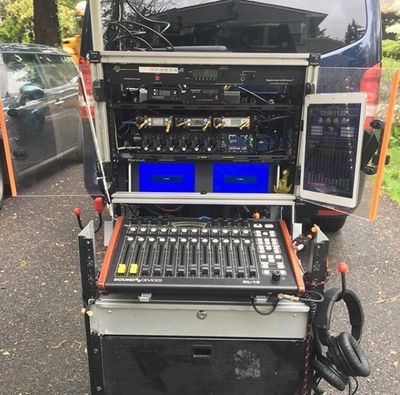 Recorders/Mixers
Sound Devices 688 with SL-6
Sound Devices CL-12
Sound Devices 633 x 2
Sound Devices Mix-Pre
Sound Devices 552
ZOOM H1 X 2
Sound Devices PDR
Microphones
Schoeps CMITs X 2
Schoeps CMC-6 Preamps X 3
Schoeps MK-41 Capsule x 2
Schoeps MK-5
Schoeps KC active cable
Schoeps CUT-1 filters X 2
Schoeps GVC Swivels
Sanken CS-3E X 2
Audio Technica BP-4029 stereo
Sanken CUB-01 X 2
Sennheiser MKH-70
Sennheiser MD-46 hand mic
Sennheiser E-825
Rycote Zeppelins.
Wireless
Lectrosonics Venue frame
Lectrosonics Venue VRTs 24,26,20
Lectrosonics SRCs -A1 X 3
Lectrosonics SRB blk 26 x2
Lectrosonics 411b blk 24 X 2
Lectrosonics 411 blk 26
Lectrosonics SMV blk 19 x 3
Lectrosonics SMa blk 20
Lectrosonics SMV blk 26
Lectrosonics SMQV blk 26
Lectrosonics UM-400 blk 26
Lectrosonics HM blk 970
Lectrosonics UH-400 blk 26
Lectrosonics t4 blk 21
Lectrosonics IFB-r1a blk 21 X 2
Lectrosonics IFB-R1a blk 26
Comtek BST 80-216
Comtek PR receivers X 11


Time Code
Ambient ACD-301 Slates X 2
BETSO WSTC Slate
Denecke SB-4
Tentacle Syncs Bluetooth X 2
Tentacle Sync -original X 2
Denecke SB-3
Denecke SB-2
Denecke GR-1
Bits and Pieces...
Bullhorn
Pelsue tent
12x12 EZ up
Blankets
Carts- Rock n Roller, Magliner etc
Speaker systems- DC powered- specialty waterproof system.. etc..
Batteries with PSC Powermax DC distro.